Caribbean's First Bitcoin Exchange CEO: 'Our Biggest Difficulty Is an Uninformed Government'
This article was first published on April 27th in CoinTelegraph by Allen Scott.
Bitt, the Caribbean's first bitcoin exchange company, is looking to tap the region's potential for remittances and banking services by providing faster and cheaper payments using bitcoin. CoinTelegraph spoke to the CEO and co-founder of Bitt, Gabriel Abed, about Bitt's plans, as well as the challenges and specificities associated with the Caribbean market.
"There is huge potential for Bitcoin and blockchain based transactions in the Caribbean.

—Gabriel Abed, Bitt CEO
After a two-year development period, the company launched its BTC solution suite on March 30. It includes a mobile digital wallet, international remittances services and e-commerce merchant solutions.
Bitt, which currently runs under beta, is vying for market share of traditional money transmitters and payment solutions services. They want to enable anyone around the world to start accepting bitcoin, with special focus on locals in the Caribbean region, an estimated 60% of which are currently unbanked or under-banked.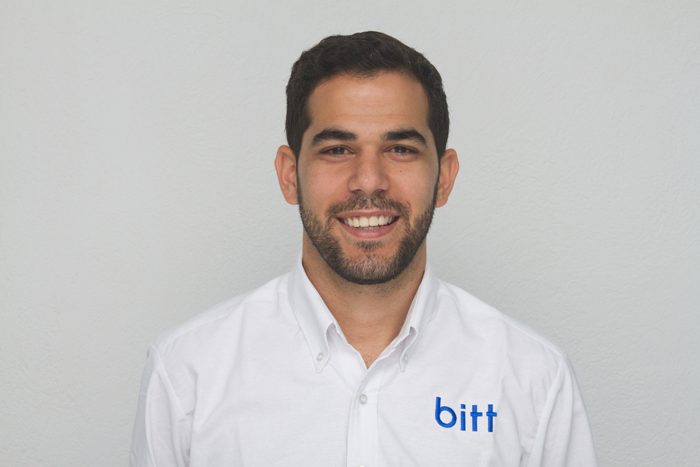 CoinTelegraph: Why did you decide to launch the Bitt exchange for the Caribbean, and how much potential does this region hold for Bitcoin in general?
Gabriel Abed: There is huge potential for Bitcoin and blockchain based transactions in the Caribbean.The costs of remittance are astronomic and can exceed 10%, so this is a key area where large savings can be passed onto to end users by using Bitcoin as a vehicle of value transfer and accounting. In order to offer remittance services, however, an exchange with market liquidity is needed. Recognizing this and the lack of any serving Caribbean currencies, we saw a need to be met and an opportunity to seize.
The Bitt Exchange is built to accommodate high frequency trading and the demands of Wall Street institutional traders using our APIs. At the same time, we recognize the importance of having an easy-to-use platform for less sophisticated traders, as adoption is a key component of Bitt's MO.
CT: With 60% of Caribbeans under banked, how much opportunity is there for 'remittances' in terms of savings for users, compared to conventional methods such as  Western Union?
GA: The opportunities are endless. The problem is that legacy systems such as Western Union and Money Gram are too slow and costly. Bitt fixes those two problems and adds an extra layer of security with low-friction payment mechanisms.  Our solutions are faster and cheaper.
CT: You just closed a seed round of US$1.5 million. Will you be hosting future rounds and what will these funds go towards? 
GA: Simply put, the money will be used towards building the next generation of financial tools in the Caribbean and helping ignite the Caribbean's first ever, e-commerce and digital boom on behalf of a population in search of options. We are going for future rounds, but will aim to achieve the right partners to take forward with us as we revolutionize digital transactions in this part of the world.
"We believe the advantages [of Bitcoin] outweigh the disadvantages of adoption and expect to see greater legal clarity, similar to that of the U.S."
CT: The recent meeting of the Economic Commission for Latin America and the Caribbean (ECLAC) looked at cryptocurrencies promising future clarification. How conducive would you say the regulatory environment for Bitcoin startups is in the Caribbean, and is there a favorable outlook?
GA: Having forums like ECLAC that address digital currencies and the risks and opportunities they represent through educational forums is certainly a cause for optimism, as it shows that there is an understanding of the importance of being proactive and not reactive to a technology as important as the blockchain in the Caribbean. We believe the advantages outweigh the disadvantages of adoption and expect to see greater legal clarity, similar to that of the U.S. and leading Western European countries in the future.
CT: Some Caribbean jurisdictions are especially renowned as tax havens, such as the Cayman Islands. How will this play into Bitt's overall business strategy as well as regulatory stance?
GA: It's well-known that low taxes are used as an incentive to attract offshore business to the shores of many islands. Bitt takes advantage of these efficiencies, but they have no bearing on our regulatory stance, which is simple: if the legislation exists, we will follow it.
"Our biggest difficulty is an uninformed government unit who may take a negative stance based on limited research and FUD."
CT: Are there any islands in particular that are either hostile or favorable toward cryptocurrencies, and where do you see the biggest potential or difficulty?
GA: So far, no hostility, but we have found favorable grounds in some territories. I am not prepared to say anything further as the conversations are in their early stages.
Our biggest potential is in the territories with governments who have a history on forward-thinking implementations of next-generation architecture. Our biggest difficulty is an uninformed government unit who may take a negative stance based on limited research and FUD (fear, uncertainty and doubt).
CT: Given the recent hacks at other exchanges such as Bitstamp and BTER, and Bitcoin's security concerns in general, how do you ensure that your customer's funds are safe?
GA: Eric Lombrozo, Michael Perklin, Luke Dash Jr., Oliver Gale and Gabriel Abed designed a pretty comprehensive security policy that ensures customers are looked after, and the incidents mentioned above can never apply to Bitt. For starters, we use HSMs [hardware security modules] to generate keys in an offline environment using true-RNG [random number generation] and HD multisignature wallets with independent hot and cold wallet systems in place with redundant transaction signing servers.
Our security is one of the leading solutions in the industry. The difference is that Bitt.com has a network security engineer as the CEO (me), and therefore data security and mathematical security is my focus. We could have launched over one year ago, but choose to take our time to address every concern and possible attack vector.
"The Caribbean is a special place and you need to be well aware on how to approach officials with something as radical and different as Bitcoin."
CT: The "Let the Bit Drop" Bitcoin Festival that was scheduled to be held on the island of Dominica on March 12 was cancelled due to a lack of "logistical support" from the small Caribbean nation. What do you think they mean by logistical support, and will we ever see such a unique experiment take place in the Caribbean?
GA: Lack of research into Caribbean markets and attempts to work with non-governmental officials on a project that required government oversight appeared to have been the issue. The model was quite intriguing and could have been very successful.  However, foreign companies think doing business in the Caribbean is the same as their part of the world.
The Caribbean is a special place and you need to be well aware on how to approach officials with something as radical and different as Bitcoin. Discussions and education must come first, followed by a proposed business model, before an announcement or declaration is made. As we have seen in the case of Let the Bit Drop, premature announcements that are pinned on a government's approval are a headache waiting to happen. You need to appreciate this market and how business works in this part of the world that we are pleased to call "home."